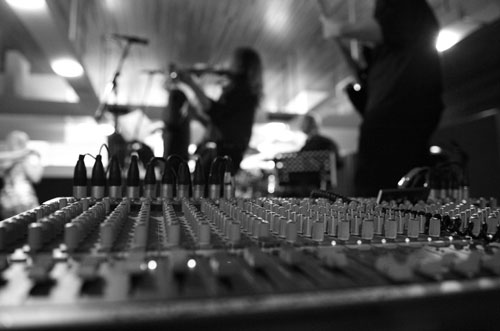 Channel list & sound requirements
The sound system should have a minimum of 4kW at 8 ohms power.
At least a 24 channel mixing desk is required, with a control rack including 8 channels of compression.
Monitoring:
At least a 4-way mix with a minimum of 4 monitor speakers (see stage plan).
| Channel | Mic/DI | Inserts | Stands |
| --- | --- | --- | --- |
| 1 Kick | AKG D112 | Gate | Short Boom |
| 2 Snare | Shure SM57 | Comp | Short Boom |
| 3 Hi-Hats | AKG C931 | | Short Boom |
| 4 Rack Tom | Sennheiser 604 | Gate | Clip |
| 5 Rack Tom | Sennheiser 604 | Gate | Clip |
| 6 Floor Tom | Sennheiser 604 | Gate | Clip |
| 7 Over Head | AKG C414 | | Tall Boom |
| 8 Over Head | AKG C414 | | Tall Boom |
| 9 Bass | Active DI | Comp | |
| 10 Electric Guitar | SM57 | Comp | Short Boom |
| 11 Accoustic Guitar | Active DI | Comp | |
| 12 Fiddle | Active DI | Comp | |
| 14 Vox - Backing | Shure SM58 | Comp | Tall Boom |
| 15 Vox - Lead | Shure Beta58 | Comp | Tall Boom |
| 16 Vox - Backing | Shure SM58 | Comp | Tall Boom |